1971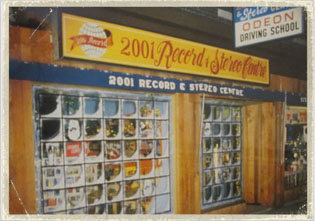 In February of 1971, a 26-year old Leo and Frank Annecchini opened a 600 square-foot record store on Dovercourt Avenue, just steps North of Bloor Street in the city of Toronto. Leo, a driving school instructor at the time, used store frontage of his driving school to house the record store. Frank worked part-time as he was still in high-school at Oakwood Collegiate in Toronto. 2001 Record and Stereo Centre was born.
At the time, disco and reggae were booming and local customers would come in asking for specific types of reggae records. Leo would go out to purchase these records around the city, then sell them to his local customers. This was an early introduction to 2001's policy of putting the customer first! As the demand for reggae grew, 2001 Record and Stereo Centre started importing reggae from New York City, and then eventually directly from Jamaica. Within years, 2001 Record and Stereo Centre became one of the biggest sellers of Jamaican reggae music in the Toronto area.
1974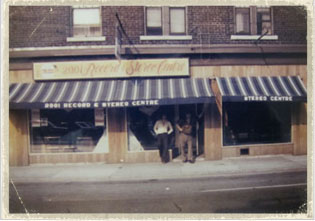 Our local popularity continued to grow, and we expanded our selection of higher end audio products. The 600-square foot store front (which, by the way, the driving school office was included in that square footage) was no longer ample to keep up with our business, so we bought out the store next door to increase our floor space and better serve our customers. This marked the first official expansion of 2001 Record and Stereo Centre.
1976
With expansion came a shift in the focus of our business. To best reflect our services provided, we underwent our first identity change. 2001 Record and Stereo Centre became 2001 Stereo and Video Centre.
1977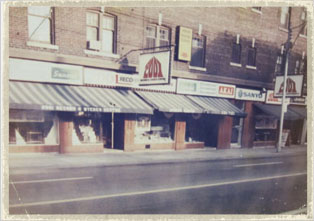 Within 6 years of inception, we had purchased 3 additional neighbouring locations on Dovercourt and now owned 5 store fronts in a row. In October of '77, we purchased our first-ever print advertisement in the Toronto Sun. This marked the beginning of a 35-year partnership with the Toronto Sun that still continues to this day. This first print advertisement was monumental for us and we got a huge lift to our everyday business.
Shortly thereafter, we purchased the final store in between us and Bloor Street - a TV repair shop. By the end of 1977, we had now owned 6 store fronts going down to the corner of Dovercourt and Bloor.
1979
With business continuing to improve, another offer came around, this time for relocation. Woolworth department store, which was located on the North Side of Bloor Street, offered us their 5000 square-foot location. The rent was more, but the opportunity to be on Bloor Street was too good to pass up.
So before the decade was out, we sold all 6 store fronts on Dovercourt and moved into our new, much bigger home, on Bloor St. The move also brought change to our inventory. We slowly got out of selling records and focused more on equipment such as stereos and televisions, and soon to come: VCRs.
1983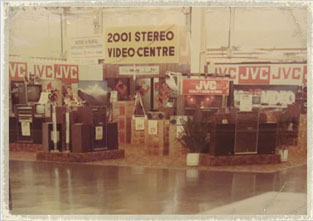 An exciting year for our company. This marked the first year we operated our own show booth in the Better Living Centre at the Canadian National Exhibition. This proved to be a great opportunity as not only did we gain experience and knowledge as a company, but we were able to engage a large volume of customers that we had not previously experienced. This also injected capital into the company, and gave us the opportunity to expand further.
In October of 1983, we opened up our 2nd store - a 1200 square foot location on Yonge Street North of Lawrence.
1984
Business was flourishing, and we expanded our reach into Ontario by opening our 3rd store, a location in Brampton on Main Street. Furthermore, our middle brother, Mario, who had spent time working in local politics and with the Federal Government had decided to come on board with the company and took a stake in the new Brampton store.
As the dynamic of the business landscape changed, it was once again time to evaluate who we were. For the 2nd time in our short history, we underwent another name change and our identity took on a more permanent place in the Consumer Electronic landscape: 2001 Audio Video was incepted.
1990s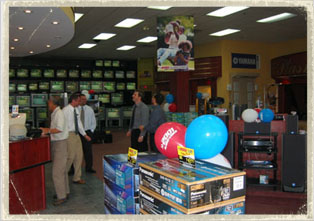 By the start of the 1990s, we had 10 locations stretching from Kitchener to Toronto. The surge of Video and VCRs helped business in the '80s as our focus shift to video. The '90s also saw a shift to the "bigger and better" mentality. Big screen TV's filled our stores and were a hot commodity. We opened our first warehouse, continued expansion, and increased floor space in most stores to accommodate the demand of big projection TV's.
In the early 1990s, an important move was made that affected the future of our company as well. We purchased 5 locations of local competitor "Electronic Station." We took on 50% ownership of the chain, and the other 50% was owned by Centre Hi-Fi – a similar electronics retailer based out of Quebec. Buying together, we increased buying power while operating a competing chain (similar to Best Buy and Future Shop today). This started our relationship with Centre Hi-Fi.
As the millennium drew to a close, both 2001 Audio Video and Centre Hi-Fi agreed to close the Electronic Station chain. The face of the Canadian retail landscape was changing as several "Big Box' American retailers started to land North of the border and our focus became strengthening the 2001 Audio Video brand.
2000s
Y2K came and went... silently. Thankfully, we were still in business and in a blink of an eye, the dynamic of consumer electronics changed once again. The influx of American competition was major, but the "bigger is better" mentality slowly died off. The technology revolution saw Plasma and LCD flat panel TV's flourish. Expansion continued in the 2000s, as our reach in Ontario grew even further. From Ajax and Oshawa to London, 2001 Audio Video now had 24 locations servicing Southwestern Ontario, as we marked over 35 years in the industry.
2021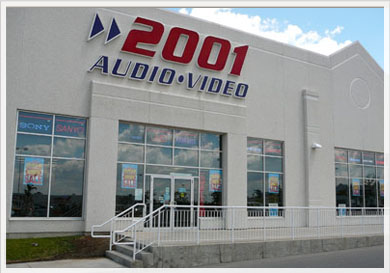 50 years in the industry and we're still going strong! We are still under the same ownership with all 3 Annecchini brothers still at the helm of the company. Our company, our industry, our world may have undergone countless changes in the past years, but we still hold true to the principles that made us successful. Customer satisfaction is what fuels us. We want to provide you the best shopping experience, provide knowledgeable and courteous staff, and most importantly - we always guarantee you the lowest prices!
And as it's been since Day 1 - we are 100% proudly Canadian!
We are proud to serve Southwestern Ontario, and are always thankful to you for making us your Home Entertainment choice.
Frank Annecchini
President and CEO
2001 Audio Video